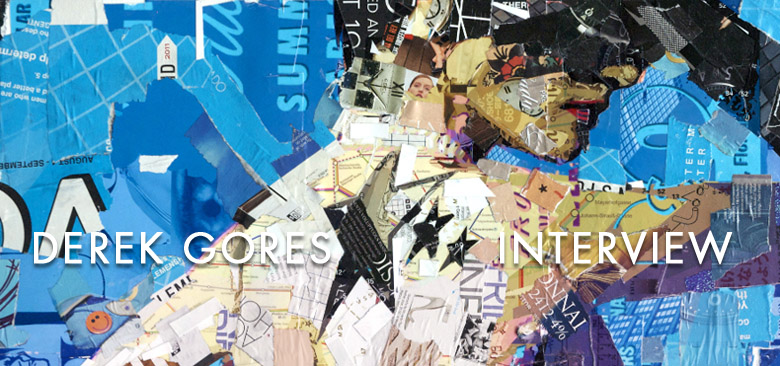 FUNDRAISING LINK: www.indiegogo.com/Recycled-Collage-Europe

What have you been up to since our last interview?
Making pretty pictures mostly, playing legos with my kids, assorted art adventures in some new galleries on the West coast and now one in Germany. I created the album cover collage for the new Bess Rogers CD. Also designed some tour shirts for Van Halen! And staged an angry ice cream mob protest, demanding an ice cream shop in my local arts district. It hasn't worked yet, but I did come away from the event with a picket sign I made showing Spock with an ice cream cone perched perfectly in his hand while showing the Vulcan sign. So that's a positive.
Also, I opened a gallery and studio. EGAD! Art Lab in Melbourne, FL.  We've put on some fun shows including 'Pollen8′, a collaboration of artists and floral designers.  'DataMoshing' started with a glitch art inspiration, and we took the idea to mean just the combining of two sources of information- a dialogue. In that show we had painting and digital glitch and then even the performance of a couple songs by Places Please! Theatre Company's actors. They were rehearsing "The Last 5 Years" and I sure loved how the live performance brought the art out into the room. This kind of stuff I call a mingling of the senses and it is just the way I think. Quite often I have a show idea or title first and then work backwards to the art.  More on EGAD! Art Lab here: www.EGADartlab.com  and Places, Please! Theatre Company here: www.placesplease.org
Finally, I'll be in the 'Synergy' show at Spoke Art in San Francisco, opening May 4.   http://thinkspacegallery.com/shows/2012-05-synergy/ and the 'Wild at Heart' show at Thinkspace in LA opening May 26   http://thinkspacegallery.com/shows/2012-05/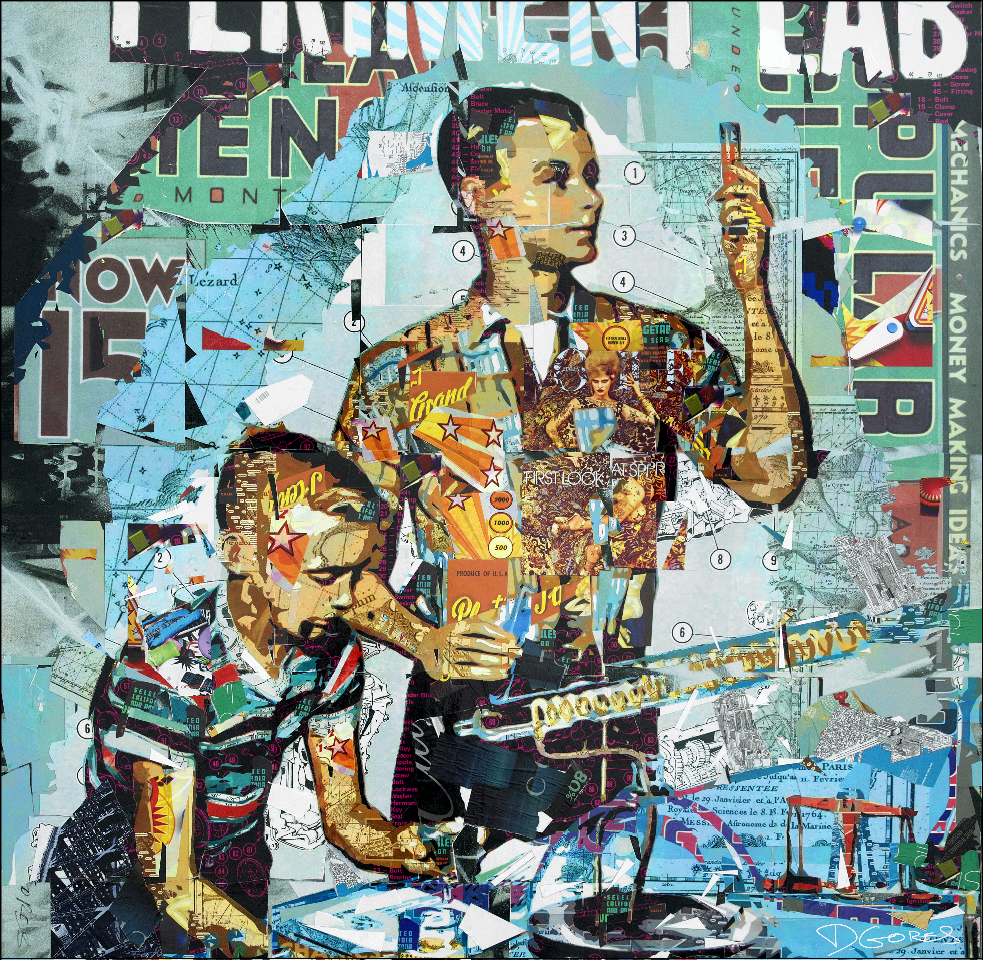 Experimental Money Making
48″ x 48″ collage on canvas, 2011
How has your work, and more importantly, the philosophy behind your work evolved in the past year?
I've realized that 'fierce' is my subject. The mystery and strength and the story in the eyes of the individual women in my figurative pieces, is my subject. Early on I wasn't sure how I reconciled the study of these beautiful women, I was wary anyway- never wanting to objectify, though I do believe I have always studied with utmost respect for that individual muse. But I've been thrilled and encouraged at the response to the art. Now I look for this topic all around me, in books and art, in the eyes of my most favorite people.  I think a few years ago my daydreams were from my point of view, then I spent a year noticing from the audience's point of view, and maybe now I'm focused in a new way on the subject from the inside out. Ah, the Muse. (Stop me if you've heard this story before…)