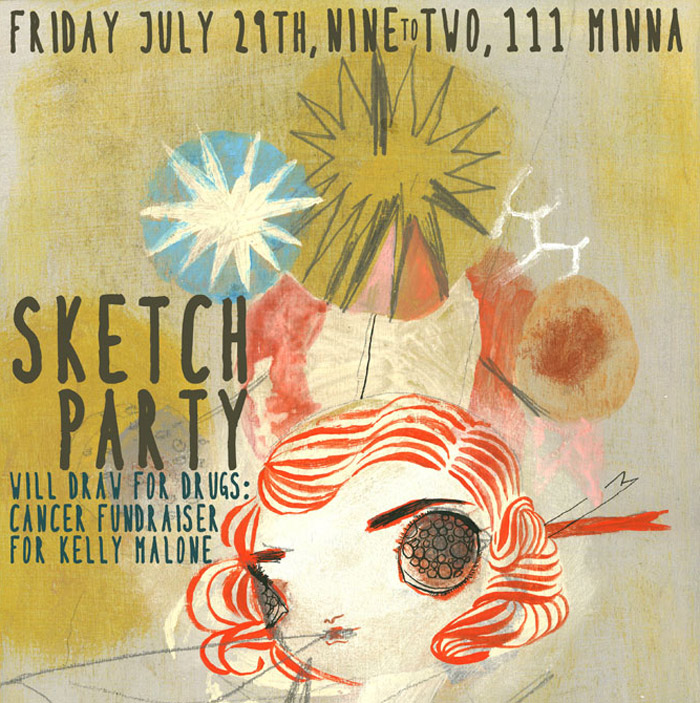 WILL DRAW FOR DRUGS: A Sketch Party Fundraiser to Help Kelly Kick Cancer! (FB Event page for more info)
Art with a purpose…a cause…for something greater than ourselves. That's what we, here at EMPTY KINGDOM, continue to strive for with the work that we do, not just for our site, but with the artists, the galleries, and with the people (you) that we connect with on a regular basis.

This Friday (July 29, 2011) in the beautiful city of San Francisco, California, USA, there will a monster of an art event that no art fiend (which most likely is all of you viewing our site currently) will NOT want to miss!
Held at the infamous Mina Gallery in the heart of downtown San Francisco, there will be an incredible fundraiser sketch party held for Kelly Malone, founder of the greatly beloved Indie Mart & Workshop SF, as she battles against an advanced stage of cancer AND squares off against the mounting hospital bills and chemo drug costs. The line up of artists scheduled to be there in the flesh sketching up a storm would make any of us art-crackheads go ape-shit, making the female Beatles-maniac-fans (of their day) look like obese infants on the Maury Povich Show as he informs them and their single mothers who their fathers are…
Most of the artist are folks that EK definitely endorses, and not to mention, have featured previously on our site! I nearly shit my pants when I found out the artist lineup. Not really.
Okay, I shit just a little bit.
Hosted by SF artist Kelly Tunstall and WorkshopSF, this event offers a one-time opportunity to pick up affordable works drawn on the spot by an amazing lineup of Bay Area big guns. There will also be submitted art for auction, as well as special edition designs screen printed on WorkshopSF's favorite never-leave-home-without-i​t accessory: the beer koozie. If you can't make it to the art fundraiser event for whatever reason, you can still help by donating however much you can through Paypal on Workshop SF's website! The goal is $15,000!
Friday July 29th, 9-2am
111 Minna
San Francisco, CA
DJ's for the evening:
Sonny Phono
Romanowski
Admission: $5-20 suggested donation
100% of admission, art sales & donations support Kelly's Cancer Treatment Fund!
And now…the ARTIST LINEUP for the night:
~ Adam 5100
~ Alexis MacKenzie
~ Arlo Jamrog
~ Audrey Erickson
~ Brett Amory
~ Brian Barneclo
~ Daryll Peirce
~ David Choong Lee
~ Dennis McNulty
~ Erik Otto
~ Ferris Plock
~ gaNyan
~ Hannah Stouffer
~ Henry Gunderson
~ Henry Lewis
~ Ian Johnson
~ Isabel Samaras
~ Jay Howell
~ Jesse Balme
~ Jessica Trippe (sorry no link!)
~ John Casey
~ Justin Lovato
~ Kelly Tunstall
~ Marcos Lafarga
~ Paul Urich (sorry no link!)
~ Ryan de la Hoz
~ Sirron Norris
~ Skinner
http://workshopsf.org
http://indie-mart.com
http://111minnagallery.com
---
Posted in: Drawings, Featured, Film, Fine Art, Illustration, Illustration & Art, Mixed Media, New Media, Painting, Photography, Street
Tags: Adam 5100, Alexis MacKenzie, Arlo Jamrog, art, Audrey Erickson, blog, Brett Amory, Brian Barneclo, Daryll Peirce, david choong lee, Dennis McNulty, empty kingdom, Erik Otto, Ferris Plock, Fine Art, gaNyan, Hannah Stouffer, HELP KELLY KICK CANCER, Henry Gunderson, Henry Lewis, Ian Johnson, Isabel Samaras, Jay Howell, Jesse Balme, Jessica Trippe, John Casey, Justin Lovato, Kelly Tunstall, Marcos Lafarga, Paul Urich, Ryan de la Hoz, Sirron Norris, Skinner, Will Draw For Drugs: A Sketch Party Fundraiser to Help Kelly Kick Cancer